Lawsuit seeks to hold day care center and employees responsible for hurting baby
June 1, 2022 • News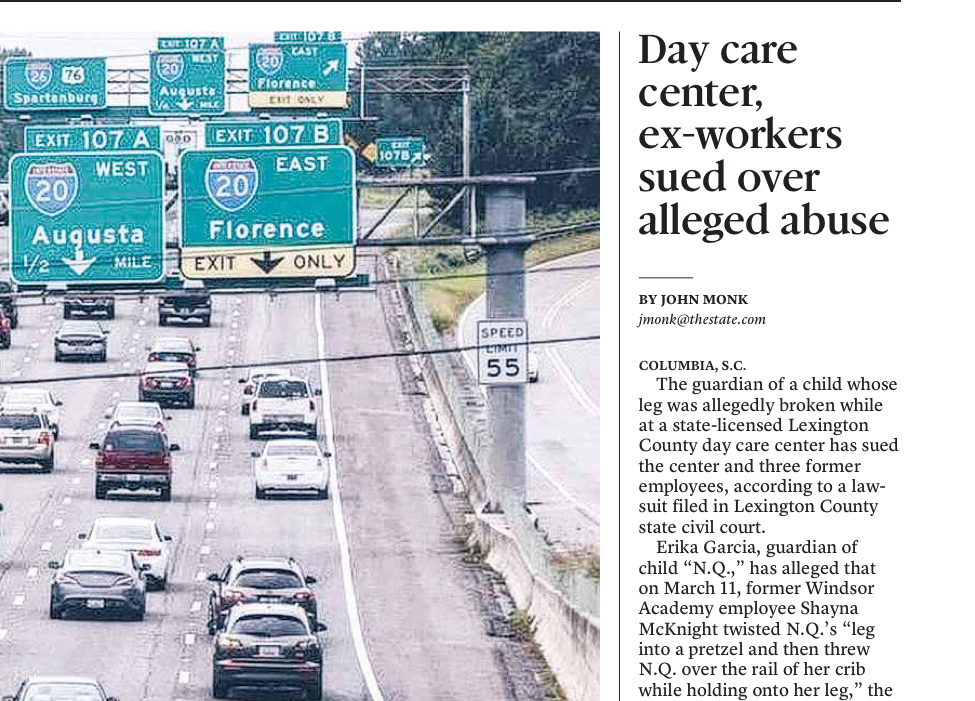 Like so many other parents, Erika Garcia trusted a licensed day care facility to keep her precious child safe while she went to work.
On March 11 of this year, that trust was betrayed when employees of Windsor Academy in Lexington, South Carolina, injured her 10-month-old daughter, "N.Q.," and tried to cover it up by destroying evidence.
You may have read about this on the front page of The State newspaper on Friday, May 20.
On May 6, attorneys Brady Thomas of Richardson Thomas and Marion Moses filed a lawsuit in the Court of Common Pleas of Lexington on Erika Garcia's behalf against Windsor Academy, the three employees involved – Shayna McKnight, Amy Marie Grice, and Jeannie Locklear – and H&H Incorporated, the company that owns Windsor Academy. The lawsuit demands a jury trial in the matter.
Here's what happened, according to the filed complaint:
On March 11, broke N.Q.'s leg. She did this by forcing the leg "into a pretzel" before throwing the infant over the rail of her crib while holding onto her leg. McKnight also "wrapped a blanket tightly around… N.Q.'s face in an attempt to force N.Q. to take a pacifier."
Realizing the baby was badly injured, the three named defendants then tried to cover up what had happened by destroying "video of the incident and creating a false narrative as to how the incident occurred."
The child experienced "great pain and suffering as a result" of this abuse.
Her mother Erika "lost wages as result of being unable to work due to the need to care for N.Q." Of course, she also incurred medical expenses.
Through the lawsuit, the child's mother seeks:
Actual damages incurred such as medical costs, future medical costs, gratuitous nursing services, lost wages and any other related loss;
Compensatory damages, including for physical and mental pain and suffering;
Court costs;
Punitive damages "as determined by the trier of fact due to willful and wanton conduct by the Defendants including their attempted coverup;"
Any "other relief as the trier of fact deems just and proper."
The wrongdoing by the care center and staff, resulting in physical harm to the baby, is clear in this case, according to Brady Thomas.
"Windsor Academy, at the very least, owed it to N.Q. and her mother to provide the child with safe, reasonable, and prudent care. Instead, they hurt her and tried to cover it up," he said. "In addition, the business is to blame for failing to hire and train staff who would keep children safe."
Attorneys